An important message from Joel Salatin of Polyface Farm in Swoope, Virginia:
Whether or not you drink raw milk, Virginia is moving to virtually outlaw the choice.
Two bills, SB962 and HB825 are wending their way through this session of the General Assembly to clamp down on the right to drink milk from your own cow. So deep and wide is the hatred of food choice by the Virginia Department of Agriculture and Consumer Services (VDACS) and numerous legislators that these bills all but eliminate herd share viability.
For the uninitiated, raw milk sales are illegal in Virginia, although more than 20 states allow it. Yes, Virginia, freedom exists elsewhere, but not here. We all know those states are seeing massive deaths and illnesses due to such liberty. Tsk, tsk, tsk.
For Virginians, the work-around is to own a portion of a cow, or a portion of a herd, so that you can drink your own milk from your own cow. This has been ongoing for many years. Now, in the wisdom of the bowels of Richmond, this freedom is no longer acceptable.
In general, the proposed legislation would require farms whose cows are owned by shareholders to send the names and addresses of those shareholders to government officials in Richmond. Government officials, who for decades have voiced and written their antagonism toward raw milk, would be allowed warrantless inspections of herd share farms. If all that were not egregious enough, the legislation would criminalize other family members from partaking of the milk brought home by a herd share member.
In other words, when I bring home a gallon of milk from my cow, my spouse can't drink it; my child can't drink it; a friend can't drink it. This draconian measure shows the diabolical creativity of those who seek to deprive you and me of food choice. It's all done in the name of safety, of protecting us from ourselves,
of course. As if government-sanctioned food, from school lunches to Twinkies, is wholesome, nutritious,
and land healing.
These bills have nothing whatsoever to do with raw milk sales. Courts have ruled over and over that herd share arrangements are not sales; they are cow owners drinking milk from their own cows. This is sacred property ownership territory. For Richmond insiders to threaten this area indicates a heightened creativity and aggression toward deceit and tyranny. Strong words, but anything less lets them erode the few freedoms we have left.
I urge you to acquaint yourself with these bills as they go through subcommittees and hearings, and to
make a call to the appropriate legislators to voice your concern. Daily updates are available through
the Farm-to-Consumer Legal Defense Fund action alerts and the VICFA(Virginia Independent Consumers and Farmers Association) action alerts. This is the time to be vigilant, and for good people to do something.
Joel Salatin
Try and get over to the Virginia General Assembly hearing on Bills HB825 and SB962 today (February 1, 2018) in Richmond, Va. at 1:30 to lobby to oppose these proposed amendments. Or call your local delegates and senators ( lists with #"s in link articles).
http://whosmy.virginiageneralassembly.gov/
https://www.farmtoconsumer.org/blog/2018/01/24/virginia-oppose-these-herd-share-bills-now/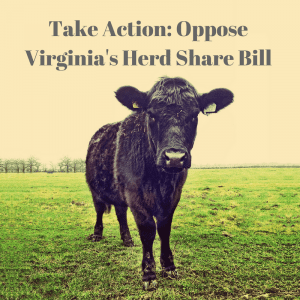 SB 962 is on the docket for a vote by the Senate Agriculture, Conservation and Natural Resources Committee this Thursday, February 1, 2018. Attend the meeting if you are able and show that you OPPOSE this bill.
The meeting will take place 1/2 hour after adjournment of the full Senate Session, sometime after 2 p.m. at:
Senate Room A, Ground Floor
Pocahontas Building
900 East Main Street
Richmond, Virginia 23219
If you're free, please help to pack the meeting room. Those who oppose the bill will be meeting in the lobby between 1:30 and 2:00 p.m. Allow time for parking.
TALKING POINTS
The right to privacy is at stake: with this bill herdshare members' names and addresses would be turned over to the government. Because herd shares are a closed loop arrangement, registration with the state should not be required since the direct relationship between farmers and shareholders makes traceability a non-issue. No other food is targeted in this way.
If passed, the bill would require that the consumers assume joint liability for all milk produced by the herd, which is completely inappropriate and unprecedented.
With HB 825, herd shares would be open to unwarranted premises and paperwork inspections and would have to adhere to yet-to-be-written stipulations put forward by the Virginia Department of Agriculture and Consumer Services (VDACS).
This bill would negatively affect peoples' rights to acquire the foods of their choice because some herd share sellers would likely be forced out of business.